Your cart:
0
items.
$
0.00
Song of the New Earth CD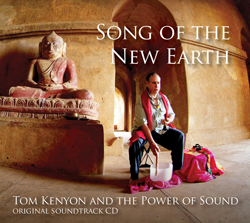 Tom Kenyon and the Power of Sound
This is the soundtrack from the movie Song of the New Earth: Tom Kenyon and the Power of Sound, Tom is a composer, teacher, musician, singer, author, psychotherapist, brain scientist and certainly one of the most respected sound healers and alchemical teachers in the world today. His almost four-octave voice is stunning, and it transforms consciousness though his mastery, artistry and genius.
Please note that this CD includes a 15 minute version of the Song to Gaia, which appears at the end of the movie. But the complete Song to Gaia is thirty minutes in length and can be found in the single CD
Aethos
or the workshop set
The Sphere of All Possibilities
.
CD Tracks:
Track 1
Spirit Calling Song
Track 2
Crown Chakra Sound Meditation
Track 3
BA RA SHEM KA
Track 4
Sound Journey Through the Stars
Track 5
Song of White Tara
Track 6
The BAROD (with Overtones and Sistrum)
Track 7
Gaia's Song
Click on the tracks below to listen to short samples:
$16.95/CD
$9.95/MP3 Download