Your cart:
0
items.
$
0.00
Immunity
Covid-19 Notice
Immunity is not a medical treatment for Covid-19.
If you are experiencing symptoms of Covid-19 or any other medical issue, for that matter, you are advised to seek assistance from a health professional.
---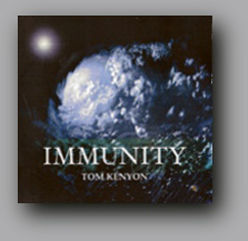 This stunning tapestry weaves together compelling sound codes for purifying the body, mind and soul. Thirty-two spirit healers from indigenous shamans to the angelic realms channeled their healing codes through Tom Kenyon's remarkable almost four-octave voice. Brilliantly mixed and layered,
Immunity
reaches deep within the body/mind of the listener to create a powerful sound healing experience. A new mind/body healing modality for our times. These are the sounds of
Immunity
.
Read the full Immunity story
Download a pdf version
.
Important medical disclaimer:
Immunity
was created to provide listeners with a means to enter altered states of consciousness and to explore the interface between spirit, mind and body. Sometimes, these altered states activate "healing responses" in the body and mind, but such responses are highly individual and cannot be predicted with certainty.
This sound healing meditation is not meant to be a medical treatment, nor should it, at any time, be used in place of competent medical attention. If you are suffering from the symptoms of an illness, seek immediate professional care.
PLEASE NOTE: The Immunity CD is one 20 minute track that repeats three times on the CD. The Immunity download is that 20 minute track.
Click play button below to listen to an excerpt:
$16.95/CD
$5.00/MP3 Download
---
A message for economically challenged individuals
For those who feel they need the Immunity sequence,
but are unable to pay for it, click here
.