Your cart:
0
items.
$
0.00
Perchance To Dream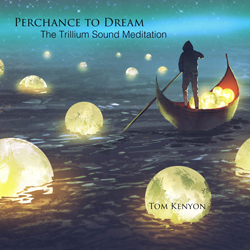 This is an extended version of the Trillium Sound Meditation. You can find an excerpted version, for free, in the
Listening Section
.
We have found this extended version exceedingly helpful as a means to assist sleep and play it when we go to bed. It is titled Perchance to Dream because the long slow fade ins and outs mimic the cycles of dreams during sleep.
This version is also ideal for those who wish to psycho-navigate The Multiverse as described in the Hathor message titled
Trilliums
. We suggest following the instructions in that message for maximum effectiveness during psycho-navigation sessions.
1 hour 17 minutes
This recording is currently only available as an mp3 download. The basic meditation was first performed and recorded during the
The Multiverse
workshop.
Recording Engineer: John Paul Michaels/ Mastering: Brandon Busch/ Final Mastering: Tom Kenyon Cover Art: © iStock Photo/ Graphic Design: Adrianne Koteen
Click on the Track Below To Listen to a Short Sample:
$9.95/MP3 Download