Your cart:
0
items.
$
0.00
Kundalini Rising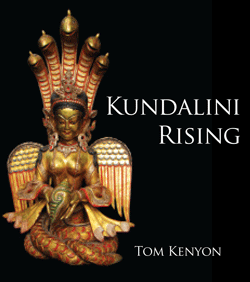 "The ways of working with Kundalini Shakti we have inherited are patriarchal and the Goddess Kundalini is forced into the chakras by the will of the practitioner, and I think this is a very narrow way of working. Allowing the feminine primordial power to move according to her own intelligence creates a richer, more profound and more gracious transformation."
-Tom Kenyon
Kundalini Shakti is conceived as a Goddess in the traditions of India and Kundalini Yoga. She is the primal force of consciousness and her ascent up the sushumna leads to spiritual illumination and enlightenment.
This is a new paradigm and a new way of working with Kundalini. The methods for activating Kundalini that we have inherited are controlling and manipulative. The primal force of consciousness is forced to move, according to the will of the person. In this method Kundalini is allowed to move according to HER own innate intelligence. As result, this primal force moves through the body with greater ease and greater potency because SHE is in charge.
This event in New York was a Turning of the Wheel, which means a new understanding or teaching is being introduced into the tradition. The Turning of the Wheel is very significant from the standpoint of the lineage, and it introduces into the lineage the idea that the feminine can rise according to her own intelligence and volition by allowing her to move rather than forcing her to move.
These 3 CDs are from a one-day workshop held in New York City at the Peter Norton Symphony Space in 2012. They contain explanations and sound meditations.
CD 1
Track 1
Opening Sound Meditation (10:30)
Track 2
Kundalini Shakti: Overview (39:37)
Track 3
The Gayatri Mantra: Overview (3:03)
Track 4
Gayatri Sound Meditation (14:53)
CD 2
Track 1
Kundalini Shakti and Cerebral Spinal Fluid: Overview (7:22)
Track 2
Spinal Movement Exploration (14:54)
Track 3
First Sahasrara (Crown Chakra) Sound Meditation (13:54)
Track 4
First Kundalini Healing Song (8:54)
Track 5
The Prajnaparamita Chant:Background (6:58)
Track 6
The Prajnaparamita Chant (22:57)
CD 3
Track 1
The Chant of Chenrezig/Yeshe Tsogyal (5:39)
Track 2
Instructions for Second Kundalini Healing Song (2:57)
Track 3
Second Kundalini Healing Song (11:50)
Track 4
Final Instructions (5:13)
Track 5
Ascent: The Final Sahasrara Sound Meditation (13:55)
Track 6
The Third and Final Kundalini Healing Song (12:41)
Click on the arrows to listen to some short samples:
---
CD 1
Opening Sound Meditation
[audio:1_1_KR.mp3]
Kundalini Shakti: Overview
[audio:1_2_KR.mp3]

The Gayatri Mantra: Overview
[audio:1_3_KR.mp3]
Gayatri Sound Meditation
[audio:1_4_KR.mp3]

---
CD 2
Kundalini Shakti and Cerebral Spinal Fluid: Overview
[audio:2_1_KR.mp3]
Spinal Movement Exploration
[audio:2_2_KR.mp3]
First Sahasrara (Crown Chakra) Sound Meditation
[audio:2_3_KR.mp3]

First Kundalini Healing Song
[audio:2_4_KR.mp3]
The Prajnaparamita Chant:Background
[audio:2_5_KR.mp3]
The Prajnaparamita Chant
[audio:2_6_KR.mp3]

---
CD 3
The Chant of Chenrezig/Yeshe Tsogyal
[audio:3_1_KR.mp3]
Instructions for Second Kundalini Healing Song
[audio:3_2_KR.mp3]
Second Kundalini Healing Song
[audio:3_3_KR.mp3]

Final Instructions
[audio:3_4_KR.mp3]
Ascent: The Final Sahasrara Sound Meditation
[audio:3_5_KR.mp3]
The Third and Final Kundalini Healing Song
[audio:3_6_KR.mp3]

---
$44.95/CD
$29.85/MP3 Download