Your cart:
0
items.
$
0.00
The Hathor Material
The Hathor Material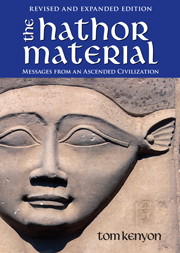 Messages from an Ascended Civilization
For almost twenty years
The Hathor Material
has consistently been a bestseller in bookstores around the world. Translated into over a dozen languages the loving and eloquent guidance from the Hathors has been an escort to evolution, helping us to understand our multidimensional nature. Their information guides us without dogma, opening hearts and minds around the world.
Over a year ago we took it under wing and made major editing changes in the book. With the Hathors, masters of sound and love as co-editors, we rearranged the manuscript so that it is more conducive to understanding what the Hathors have to say. It flows seamlessly now.
In addition to the original manuscript, Tom wrote a chapter called
A Personal Journey
where he discusses some of the challenges he faced as a channel, and how the Hathors' views regarding the nature of reality conflicted with his scientific bias.
The new Revised Edition also includes an entire body of information never before published called
The Geometry of Consciousness
. This section contains guidance and meditations based on three fundamental geometric patterns that the Hathors gave Tom during some of their first interactions. According to the Hathors, these simple patterns improve overall brain function while increasing both creativity and innovative problem solving skills. These simple meditations also increase the ability to perceive multidimensional realities.
We also added 2 Companion CDs to the book, one with live-recordings of Hathor sounds from workshops so you can experience their extraordinary sounds for yourself.  The other CD contains guided meditations with Tom taking you through the
Hathor Self-Mastery Exercises
and the three geometric patterns that comprise
The Geometry of Consciousness.
242 pages, including 2 CDs
34.95