Songs of Magdalen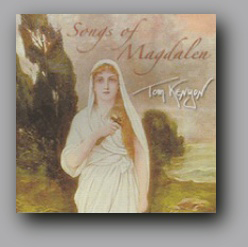 The Meeting At The Well
This is where Magdalen met Yeshua for the first time, and according to The Magdalen Manuscript, this singular event marked the beginning of her life as her Beloved's tantric partner.
I and My Beloved
This is atoning, as opposed to a song. The sounds are those of Magdalen singing with Yeshua, accompanied by only a singing quartz crystal bowl.
Sar'h's Song
According to The Magdalen Manuscript, Sar'h (Sara) was the daughter of Magdalen and Yeshuathe fruit of the Holy Grail, which carried the blood of Christ. This is her song to her daughter.
The Skies Over Jerusalem
A short song of pathos.
Manes de laMer
Legend holds that Mary Magdalen came ashore at this place in the marshes of Southern France with her daughter Sar'h and a small party of survivors who fled after the crucifixion.
An Offering To Venus
Without her Beloved, having to provide for their young daughter Sar'h, Magdalen reconsecrates her life in service to Spirit and to the Divine Mother (as symbolized by the planet Venus).
Shekina
The Shekina is a mystical feminine presence within the Hebrew tradition. Here, Magdalen invokes her presence through chanting and drumming.
The Calling Of Andrion (Healing Angel)
This is the second toning. Magdalen calls an Essene Healing Angel, called Andrion. The sounds following the calling of his name are those of this remarkable healer. If you are facing a health issue you can place your awareness in the area where you feel the imbalance. The sounds will energetically work with you if you allow them.
In The Company of Angels
Legend holds that Magdalen often levitated in the presence of Angels, especially during her times in the caves of Southern France.
From The Heart Of Isis
This is the third and final toning. Accompanied by a singing crystal bowl, it is a calling from the heart of the feminine mystery.
Note: I have noticed, over the years, that when energies from other dimensions of consciousness enter into my sound work there are often odd anomalies in the recordings. I have come to recognize these as field effects, a result of subtle energetics, if you will. Some of these anomalies have shown up in this recording as well, and rather than try to filter them out, I have chosen to leave them intact. What this means is that if you hear some odd sound(s) like electric popping sounds, they are part of the energy.
Return to Songs of Magdalen page