Your cart:
0
items.
$
0.00
Songs Of The Dharma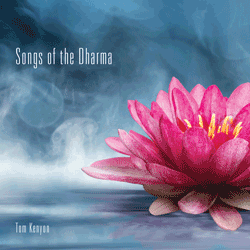 Five enchanting sound meditations from the land of pure light and sound (the Sambhogakaya)
To meditate upon these sound codes is to enter into the mystery of the Dharma, your own innate luminosity and self-liberating nature.
Om Tare Tutare Ture So Ha
(May All Beings Be Happy. May All Beings Be Free)
Note: These sound mediations are included in the CD set titled
Entering the Buddha Fields.
CD Tracks:
Track 1
Vajrapani 16:24
Track 2
Song of the Dakinis 10:31
Track 3
Homage to White Tara 11:04
Track 4
Blue Medicine Buddha 11:36
Track 5
Chant to Kuan Yin 13:55
Click on the tracks below to listen to short samples:
$16.95/CD
$9.95/MP3 Download