Your cart:
0
items.
$
0.00
Muerte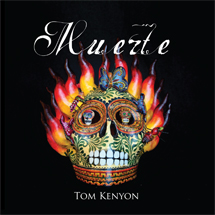 Muerte is a potent journey of power into the shamanic death realms.  Using his nearly four-octave range voice and a variety of shamanic instruments, Tom Kenyon creates a mesmerizing soundfield that gives you passage into your own underworld.
This is a rare shamanic sound piece that you can use again and again to explore the depths of your own subconscious mind.
From the first riveting drum beat, through the plaintive calling of the ancestors, to the mesmerizing cicadas and rattles, you are safely transported into your own underworld.  From the death realms you are resurrected to the heights of the celestial realms and left comforted in the journey you have taken.
The CD itself includes and in-depth discussion of the process and the complete Shamanic Journey.
CD Tracks:
Track 1
Introduction
Track 2
Sound Meditation
Click on the tracks below to listen to some short samples:
$16.95/CD
$9.95/MP3 Download