About
One of the most respected sound healers
in the world today…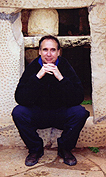 Neither the voice nor the man can be explained in one paragraph or in any combination of words. He is essence of, manifestation of, emanation of…and his vitality, his magic and his integrity cannot be articulated in electronic swipes of ink on a papyrus of light particles captured on a computer screen. So we invite you to feel his work through what you sense reading these words and listening to the sound bites, which can no more adequately capture his voice than words can portray the man. Toms life's studies and many lifetimes of remembrances, complete with background knowledge and experience allow him to move with equal facility between Tibetan Buddhism, Egyptian High Alchemy, Taoism and Hinduism and the sciences relative to each. A workshop or teaching experience with him leaves you empowered with a vast body of knowledge
suffused with tones that awaken all the physical centers, thus allowing for greater understanding of the words and Spirit imparted.
The Many Faces of Tom Kenyon
Master Teacher

Tom teaches in Intensive formats throughout the world. Because of his immense field of personal knowledge–from the sciences to spirituality–each Intensive is imbued with knowledge relative to the subject matter and overlaid with the sacred sounds he creates. In other words, if you don't fully get the transmission from the words, you can't escape the truth of it when the sounds are projected from his voice toward you. Each Intensive has a particular Intention or theme. Some come from Tibetan energy practices, some evolve out of Tom weaving many modalities into a more Western approach to esoterica. No two Intensives are ever the same as they combine information drawn out by the consciousness of the group and tones, specific mantras and tone meditations, brought through specifically for the group present. If you are drawn to be present, that is because your consciousness in the room affects the presentation and your body can literally feel the potential benefit.
Hathor Connection

Tom Kenyon is also a channel for the Hathors, Masters of Love and Sound. The Hathors are a group of inter-dimensional beings who come from an ascended intergalactic civilization. As they once helped ancient Egypt and Tibet, they have now returned to assist humanity's current evolution. Their brilliant and transformative utilization of Tom's four octave voice changes lives and can heal. This year there is only one Hathor Intensive in America and one in Europe.
Link to all Hathor Messages. Read article about White Gold Alchemy
Musician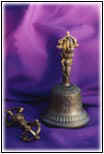 CDs and tapes utilize Tom's absolutely unbelievable four octave voice as the predominant instrument. Every sound you hear on a Tom Kenyon CD or tape is created by Tom as musician, singer and shaman. That can include voice, keyboards, piano, drums, rattles, Tibetan bells, crystal bowls, guitar and other rare instruments.
Beyond the ABR psychoacoustic tapes and tape sets, there are several Tom Kenyon CDs available. The Ghandarva Experience is Tom's tribute to a process of singing the many names of God, called Ghandarva. SOMA, a delicious and haunting meditation tape. Forbidden Songs is an album of original songs (also available as a concert video), and City of Hymns is his new album of classic Christian hymns. Sound Transformations is an extraordinary collection of tone healing sessions recorded at live events.
Temple Builder

Several years ago the Hathors approached Tom with instructions to build a tone healing temple. They said it was critical to the Earth that this temple be built, to act as a gyroscope, a tuning fork in the times to come. We have acquired land on a mesa South of Albuquerque and sunk the tuning fork, the 333 copper shaft filled with rose and white quartz crystal. The temple project is called Celestorium. This, we are told, is the first sacred structure of such magnitude built on the earth since the temples of Egypt. The instructions for this celestial portal, through which individuals may have direct interaction with Celestial Beings, are coming through Tom from the Hathors.